January Reread Challenge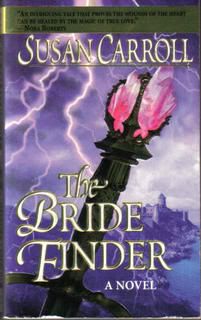 Susan Carrol

The
Bride Finder

Book One in the St. Leger Trilogy

January, 1999
Tucked away in the wilds of Cornwall lies Castle Leger; A dark, old, and Gothic-looking castle. A place full of mystery and extraordinary happenings. Anatole St. Leger, the current lord of the Castle, knows his time has come. His time to call upon the Bride Finder of the St. Legers. For generations, the St. Legers have relied on the magic of the one called the Bride Finder. For if they did not use him, and chose a wife on their own, only tragedy would follow. And Anatole knew first hand. His father refused the magic gifted to the Bride Finder and fell in love with a woman of his choosing. But tragedy took her life when Anatole was only 10 years old. Now Anatole is 29, bitter and harsh, and deep inside tormented and saddened from his losses as a youth. But he knows it's time and reluctantly sends the Bride Finder out in search of his bride.
Madeline is anxious to meet her bridegroom by proxy. Having nearly fallen in love with Anatole based on a miniature and the ramblings of an old man, the Bride Finder, Mr. Fitzleger. He claimed they would have the greatest love, and in her dreamy, young mind she believed him with all her heart. But all her hopes and dreams slip away when a savage looking man rides up on his horse, hair wind-blown and dressed all in black. Her husband. Anatole St. Leger.
Madeline and Anatole's first encounter is nothing at all what Madeline dreamed of. Her heart may be crushed and her pride damaged, but she is strong and refuses to let this dark, brooding, mad man ruin her hopes of a home, a family. Her vows have already been said, there is no going back for her.
Madeline soon learns there are mysteries surrounding the St. Legers, and Anatole fears telling her too much of his legacy that has been passed down through the generations of St. Legers. He fears letting her close to him, sharing his deepest secrets that have caused him such pain and misery, of giving her more than his lonely black heart can bear, afraid to let go of the emptiness of his life and give himself and his love to Madeline, but deep inside he knows the bride finder spoke true. That he and Madeline would share a love like no other. Only Madeline can free Anatole of his torment, open up the darkness within him, easing the tortured feelings he's suffered too long.
This book is just as I remembered it to be and more...much more. Over the years since I read The Bride Finder, Anatole and Madeline have stayed with me. Susan Carroll is one of those authors who writes such beautiful prose. She steals your heart, and draws you into the emotions each of the characters feel in such an astounding way. Anatole and Madeline's journey in discovering the beautiful love they are destined to have was such a romantic and gripping one. Their encounters are amazingly passionate, even as both fumble through the intimacies they share as they grow to learn each other. You feel the longing within Anatole to be with Madeline and it just breaks your heart that he can't simply reach out to her and take what he wants. But when he does, it is so utterly magical and exquisite.
This book has everything that I love...Magic, extraordinary abilities, a touch of paranormal and one very satisfying, very moving love story. There are dark brooding moments and there are light entertaining moments. You can't help but love Anatole's gruff nature, and Madeline's naive, even-tempered, practical personality. Ahh, just one of those perfect stories you don't want to end.
I love this book! And am so glad that I chose to reread this one for my challenge. I may have to add the next two for the reread challenge, The Night Drifter and Midnight Bride. These two books are the sons of Anatole and Madeline St. Leger. I remember waiting and waiting for the release of the third book, Midnight Bride, back in December 2006. A very moving and touching romance as well.
This is a 5+ book.
She hadn't wept. She hadn't shrieked for him not to touch her. She'd steeled her courage and endured their mating. And that's all he had ever asked for in a wife, wasn't it?

That's what he'd told Fitzleger. That it would be enough for Anatole if Madeline learned not to fear him.

I have no desire to be loved, he'd insisted.

"And I still don't," Anatole told himself fiercely. But the words rang strangely hollow, as the predawn darkness hung like a gray curtain outside the window as Madeline slept on unaware of his existence. Five o'clock in the morning...

What a desperately lonely hour to discover that he had lied.